Roll Covers

Roll Cover Types:
Options

Data windows 9″x12″ – designed to accommodate 8″x11″ sheet allows quick and easy identification, inventory sheets and inspection reports
Choose from a variety of colors – color code different rolls or lines / products
Length wise Velcro or industrial strapping (easier for larger roll over 12" diameter)
Thickness – 1/4 – ½ – ¾ padding if you need it to fit into a roll stack
Canvas, vinyl, heat resistant materials
Build large covers in sections recommend for diameters over 30 and face length over 100
We can add handles every 48 inches for easy handling and installation
Custom labeling for different machines, rollers, finishes, company's names & ADD your logo

---

---
Full Size Cover Types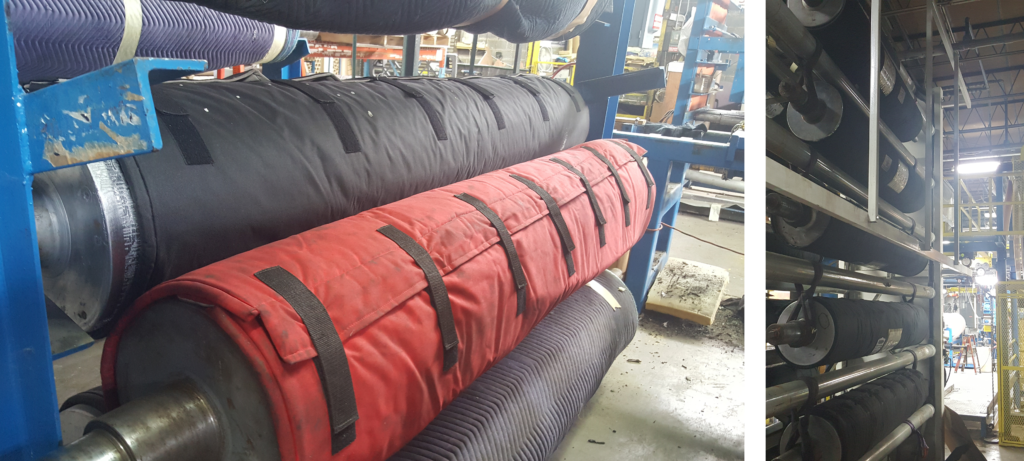 Cover the roll completely around to protect surface
These covers can be made in sections for rolls 40 diameter or over 100" face length
Link covers to cover rolls up to 96 in diameter and 300 in face length
---
Two Piece Cover

Covers large rolls.
Covers are built in sections.
---
Half Cover

Half covers are used to protect the rolls while they are in the machine so they protect the top of the roll while being worked on or when the roll is being by passed in the line.
They strap on underneath the journals they are much easier, when trying to maneuver in and out of a machine in a calender stack or if you are in a tight spot were you can't fit a full cover.
---
Protective Covers

Shafts
Sheet Dies
Molds
Large Equipment
Air Craft Parts
Drill Rotors
Filter Bags
Cover your other equipment
We engineer and design in house